151 Products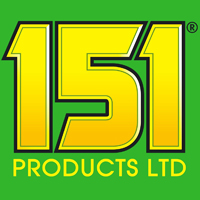 Founded in 1997, 151 produces high quality ranges of household, DIY, art & craft, gardening and automotive products for competitive prices. With over 1,500 items, these innovative and useful 151 Products are widely available from major UK retailers. 151 Products are widely available from wholesalers and major retailers, specialising in everything from DIY essentials and cleaning products to gardening and automotive items. With an array of different brands under the 151 banner, including 151 Adhesives, 151 Coatings, 151 Decorating and 151 Hardware, 151 look set to continue to grow.
Pound Wholesale - Official 151 Products Distributor
151 Products' mission is clear; provide the highest quality products for the most competitive prices. Pound Wholesale stocks an array of items and brands by 151 as their products offer fantastic bulk savings on quality household goods and essentials. Stocking an extensive range of 151 Products, DIY, homeware, kitchenware and automotive suppliers can find 151 best-selling and everyday essential items from our selection. Pound Wholesale provide the best UK wholesale prices on 151 Products in bulk quantities.