CDUs & FSDUs – Maximising Retail Space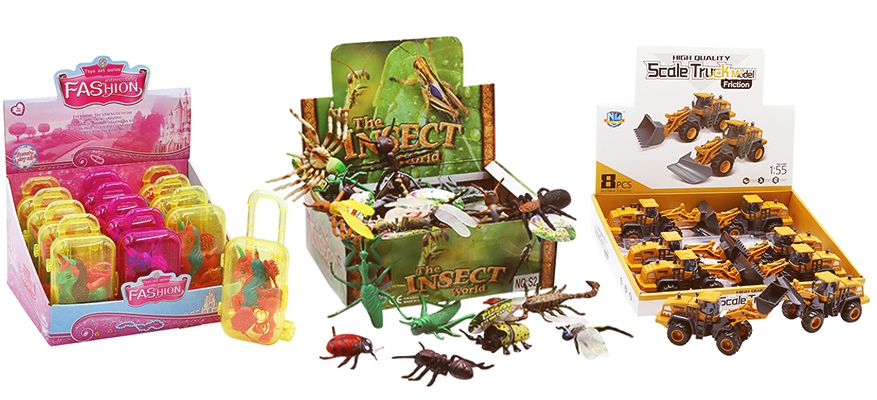 For busy retailers and traders, making the most of your space and creating an appealing atmosphere with visual quality for shoppers are key. Many shops, discount stores and retail outlets struggle to make the very most of their space and attract shoppers with a cluttered environment.
CDUs (counter display units) and FSDUs (free-standing display units), often referred to as shippers in the wholesale industry, are perforated boxes that store multiple quantities of products which are quick and easy to assemble, create an eye-catching display, help shopkeepers save space and keep products together.
From toys, gifts and party supplies to DIY tools and household supplies, Pound Wholesale provide the UK's best range of CDUs and FSDUs, which offers retailers strong, protective boxes that are ready for retail on your shop shelves.
Here is why you should consider CDUs & FSDUs to save space and drive retail profits in your store!
Display Boxes are Space-Saving Solutions
It's no secret that retailers need to make the most of their space. From large supermarkets to small convenience stores and local shops, retailers simply can't afford to be wasteful with space, and the boxed, square designs of CDUs and FSDUs allow shopkeepers to carefully tesselate display unit products together.
Shopkeepers can keep their shelves neat and tidy with display boxes, keeping things organised and their products amalgamated. CDUs and FSDUs eliminate the need for fixings, hooks and hanging supplies and can simply be placed around the shop whichever way shopkeepers see fit.
Whilst stock is in the warehouse or storage bay, CDUs and FSDUs, which are perforated boxes, are stackable, strong designs which make the most of your storage space.
CDUs & FSDUs Create an Eye-Catching Display
CDUs and FSDUs are almost universally sold in branded, colourful boxes that are open designs to encourage impulse buys. Consumers are more likely to be drawn to bold designs featuring recognisable brands and can even physically pull out pieces for examination which can help determine buying decisions.
Colourful and branded designs are visually attractive designs that capture the attention of adults and imagination of kids. Often displaying exciting imagery or familiar logos, eye-catching display units help attract customers that otherwise could miss products.
Pound Wholesale's Range of CDUs & FSDUs
Pound Wholesale is a huge wholesaler and distributor of CDUs and FSDUs. Not only do they provide fantastic initial value to retailers and businesses, we believe they help to drive retail sales in shops and give consumers a better experience when purchasing products.
From vehicles, trucks and weapons to beauty play sets and cute animals, our endless range of display box toys is one of our most popular ranges, offering retailers a fantastic selection of pocket money toys and pound shop essentials that delight kids. Our range of DIY is also packed with display box solutions with daily essentials such as tools, torches and sprays which shows off great quality and allows consumer inspection.