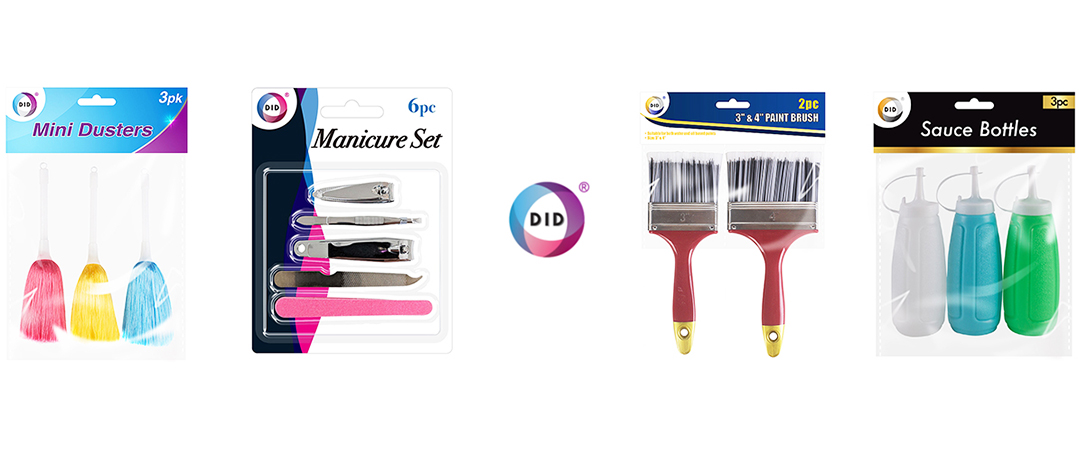 Pound Wholesale stock the UK's largest range of products from DID Distribution! One of our most varied product brands, DID Distribution operate within the Fast Moving Consumer Goods market, aiming to maximise retail profit on general merchandise.
Renowned for their great services and high standard of products, DID Distribution provide creative solutions for business, and boast multiple exciting brands under their banner.
One of DID's many strengths is in their product sourcing and product development, engineering products which are fit for the demands of modern UK discount markets, taking the pound as far as possible for retailers and businesses.
As the UK's leading supplier of wholesale DID Distribution products, we have amassed their finest products from across multiple ranges to offer our customers unique value and bulk buy opportunities. Although DID Distribution operate in the Fast Moving Consumer Goods Market, their products don't compromise on quality, and range from household, kitchenware and DIY to personal care, first aid and medical, disposable, sports, hobbies, cleaning and more, making DID a one-stop brand for many retailers and traders.
To shop all DID Distribution products, click here!
DIY & Garden
One of DID Distribution's most extensive ranges is DIY and garden tools and accessories. With a selection of screwdrivers, saws, drill bits, tape measures, and utility knives, DID Distribution offer a wide range of hand tools for various DIY tasks that provide robust durability and strength. Our selection of DID Distribution DIY supplies includes a vast assortment of glues, fasteners and assortments such as screws, nails, hooks, cable ties and corner braces.
When it comes to painting and decorating, DID's resourceful selection includes highly capable paint roller frames with trays and refill sets, along with a vast assortment of paint brushes for household painting tasks. DID also provide scrapers, wall plugs and picture frame hanging sets.
DID's selection of garden tools and accessories includes a plethora of garden essentials, include hose clamps, hope pipe fittings, galvanised wire, door and gate bolts. We also have a range of DID padlocks for garden and home use.
Household & Kitchenware
DID's vast range of kitchenware includes an assortment of grill trays and cookware and food storage containers, with an exceptionally large selection for food storage and cooking tasks. Their selection also includes salt and pepper shakers, herb and spice containers, cutlery, kitchen utensils and kitchen knives, graters and chopping boards!
For avid bakers, there's a stunning selection available, including spatulas, baking tins, icing bags and cake decorating sets.
DID are one of our leading sewing, knitting and haberdashery suppliers, with a huge selection of knitting yarns and sewing kits, knitting needles and safety pins, great for all types of haberdashery and crafting enthusiasts!
Their innovate range is also packed with beautiful little aesthetic additions to the home or living area, complimenting contemporary décor and fashion trends, from decorative hearts, stones and shells to marbles, pebbles and decorative products.
To complete the selection, DID Distribution provide a range of brushes, scourers, sponges, dusters and plungers for keeping the home and kitchen clean.
Party & Disposable
With an incredible range of colours, textures and styles, DID Distribution's range of party supplies for kids includes various balloons, candles, confetti and napkins for parties, birthday celebrations and special occasions.
DID's range of disposable items is among the widest, with a stunning selection of plastic bowls, plates, cups, cutlery, cocktail sticks and more! With clear, white, black and silver disposables available, DID supply everything needed for BBQs, parties and outdoor events.
Health, Beauty, Medical Care & Personal Care
DID Distribution's range of medical and health supplies includes a huge assortment of plasters, with a selection of sizes and shapes for different cuts and grazes. For physical injuries and fitness, we stock a huge range of support bandages for the hand, wrist and palm, elbow, knee, ankles and more. Their range also includes a brilliant selection of hot water bottles to keep warm in the winter months.
When it comes to the hair, DID Distribution provide hair combs, brushes, hair clips, bobbles and hair dye sets. DID are also one of our biggest providers of personal care products, from nail files, nail clippers, manicure and pedicure sets to nail brushes and makeup supplies.
Why Bulk Buy DID Distribution Products at Pound Wholesale?
Out of all the reputable brands available from Pound Wholesale, DID are one of our most exciting operating in the Fast Moving Consumer Goods market. With accessible and engaging branding and artwork, DID's extensive range includes everyday best-sellers which are essentials for retail, with high-performing products which help create consumer loyalty and repeated sales.
Pound Wholesale are proud to be one of the largest UK wholesalers of bulk DID Distribution supplies. Their huge selection of products will continually raise profile and popularity, and can be an all-in-one solution for many businesses.