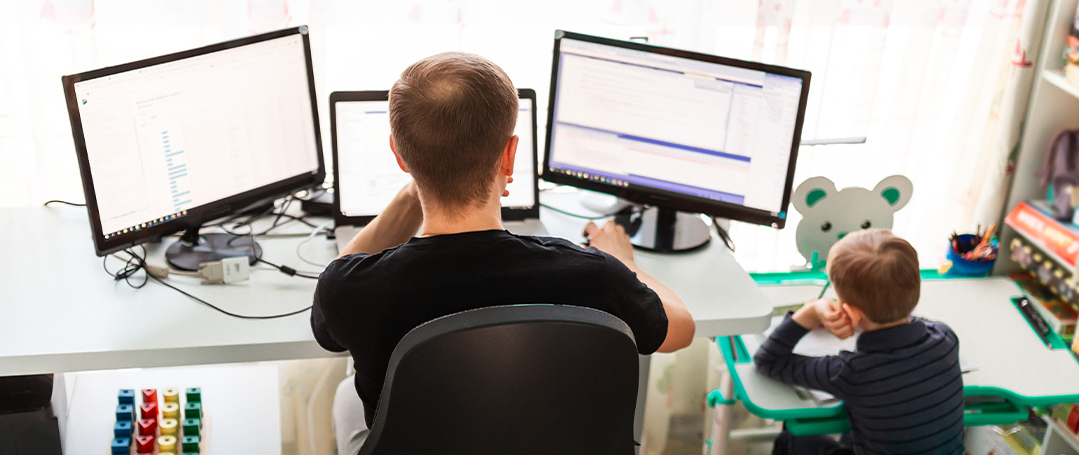 As the UK emerges from the difficult Covid-19 Pandemic, which could still take hold once more, many self-employed workers and employees alike are still working from home. Thanks to the advances in technology and virtual communications, many tasks can be performed remotely, and employers can also make savings on office space, electricity, travel and much more.
Although many works across all industries are now returning to the workplace, there is stark evidence that the working from home boom could be here to stay, as businesses look to make savings and make work more convenient for staff.
Whether you're working from home full time or spending a few days in the office, you're going to need some working from home supplies! From stationery items and organisational essentials to air fresheners, homeware accessories and tech accessories!
Stationery
When it comes to written tasks and notetaking, look no further than our extensive range of pens and pencils, along with our selection of notepads and hardback notebooks. We also stock a brilliant range of stationery accessories, from erasers and rulers to highlighters, correction sets, as well as a wide selection of stationery sets which contain a mix of stationery items.
For storing and organising important documents, certificates or letters of correspondence, our selection of ring binders and folders contains an array of options, varying on price, size and design for all type of home workers. Perfect for A4 wallets and work, using folders and ring binders keeps important documents in pristine condition and in an orderly manner, which may well be needed in some hectic households!
Storage Boxes & Containers
And if storage is your thing, you're going to love this category!
A must-have for those with limited space, and helping to de-clutter the home workspace environment, our selection of storage boxes and containers includes an array of designs for storing everything from folders and paperwork to electronic accessories like phones, stationery items and all kinds of items that are needed for when staff work from home.
One item that has proven particularly popular with stay-at-home workers are the desk drawer towers, which can be used for storing all types of items conveniently in drawers. A convenient addition to the desk, so all tools and paperwork is within arm's reach, the mini drawer tower units includes an assortment of sizes.
Electrical
Our range of electrical supplies is wide and multifaceted, with many lines being important to home working which may not be expected. For users that require multiple computers or electronic appliances for their work, our selection of extensions, adapters and switches is invaluable, catering for complex topologies and busy workstations.
For connectivity and networking with customers and clients, our range is also packed with everything from computer cables to phone cables and chargers, in addition to bluetooth accessories and power banks.
It's safe to say that, with so many employees and workers conducting their affairs from home for the foreseeable future, some extra lighting will be required. Our selection of light bulbs is wide, varied and comprehensive, offering an excellent range of bulbs for lamps and ceiling fittings.
Fans & Heating Supplies
With staff working from home during all hours of the day and all seasons, the temperature must be just right like the office!
Whether you're sweltering in a stuffy home office, or chilly on a bleak morning, Pound Wholesale stock a vast array of fans, fan heaters and radiators. With a fantastic range, Pound Wholesale's selection include various wattages and device types designed for different home requirements and environments, with leading brands such as Elpine, Geepas and Status available.
Air Fresheners & Homeware
With staff spending more time at home, it's seldom been more important to keep the workspace and living space smelling nice and fresh!
Pound Wholesale stock an unparalleled range of scented candles, fragranced with everything from sweet, creamy delights to fresh fruits and traditional home aromas. We also stock a vast range of wax melts and oil burners, which can be used with a humble tealight to keep the home workspace fresh and free from odours and staleness.
For those with the chilled office vibes, perhaps one of our ranges of incense sticks or fragrance oils would be preferred. We also stock a huge selection of reed diffusers which slowly take effect to create a welcoming atmosphere. For emergencies, we stock an excellent selection of air fresheners, boasting brands including Swizzels, Bloome and Pan Aroma.
What The Data Says About Working From Home
According to statistics courtesy of ONS, 35.9% of workers did some work at home in 2020, an increase of 9.4 percentage points when compared with 2019. It's clear that the Covid-19 Pandemic has contributed heavily to this data, but there is some information that suggest high percentages of home working maybe permanent moving forward. This is likely due to data from 71% of employers that indicated working from home may have boosted staff productivity or made little difference. Working from home does have many beneficial aspects for employees. Although the social aspect of the office environment may be affected, working from home means shorter days, less risk of spreading illnesses, reduced costs on resources and travel and much more!