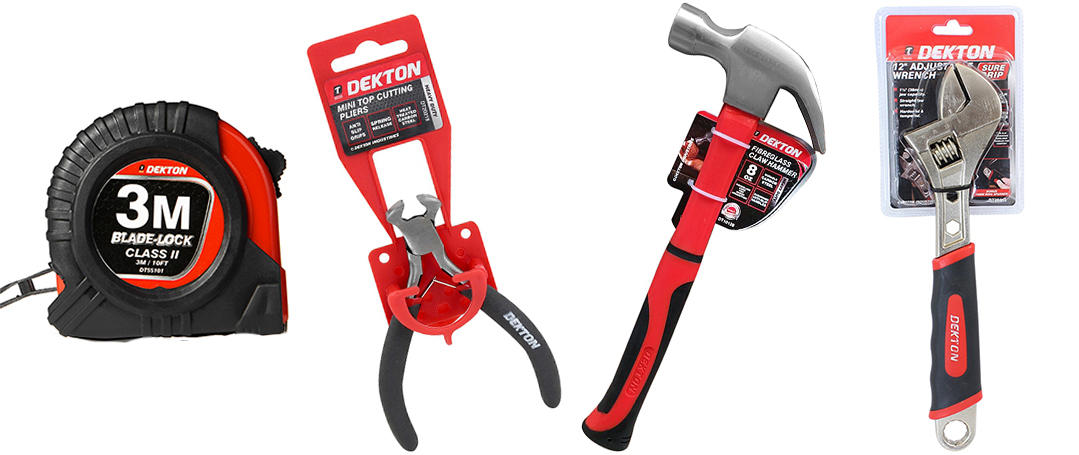 Pound Wholesale's latest litter of Dekton DIY supplies includes striking tools, hand tools and an array of products for hobbyists and tradespeople alike! With unwavering durability and precision, Dekton's new bulk products available at Pound Wholesale continue to offer incredible value for DIY traders.
As the UK's number one supplier of Dekton Tools, we've taken our selection to the next level, catering for numerous industries, including building, hobby, precision and security. Our new range includes a brilliant selection of hand tools, decorators' products and measuring and precision tools that are great for domestic or professional applications.
With such great prices available, Dekton Tools are suitable for DIY hobbyists and professional tradespeople alike, providing the durability and quality needed to perform various DIY tasks to a high standard.
Pliers and Wrenches
Our selection of Dekton Pliers and Wrenches has been expanded with a new range of mini pliers, including mini side, combination, long nose, bent nose and top cutting pliers. Ideal for cutting, stripping, twisting, clamping and gripping different small objects and wires, the Dekton Mini Combination Pliers are all made with anti-slip grips for excellent precision and control.
Each pair of Dekton Pliers all have high-quality spring release mechanisms to allow clean cuts and easy grips. Each made from heat-treated carbon steel, our range of Pliers has every type you need for different tasks and delicate work, such as jewellery making, craft and pulling or manipulating wire.
The extra-long nose pliers can be used to grasp inaccessible or out of reach items during delicate DIY work, so you've got just the tool for the job!
We've also stocked in a brand new Sure Grip Adjustable Wrench, which is perfect for all things automotive, engineering, plumbing and building. A hardened and tempered steel design, this straight jaw wrench provides the strength, durability and control needed to grip and twist various objects.
Hobby and Precision
Our latest lines for hobbies and precision work includes a range of steel wools. In assorted styles and thicknesses, these wools can be used to remove paints and varnish, heavy duty cleaning or cleaning copper.
Ideal for finishing tasks, Dekton Steel Wool is available in coarse, fine and medium densities, depending on the task at hand. Great for wood, plastic, metals and painted surfaces, Steel Wool leaves a stunning finish.
In addition, we've also added the ultra-handy and resourceful Dekton Helping Hand with Magnifying Glass. Assuming the appearance of a robot from a classic movie, this helpful tool is perfect for soldering, jewellery makers, model makers and delicate, fine DIY tasks. With strong alligator clips and magnifying glass, this table, durable and dynamic design is a strong and secure item for fine DIY work.
Hand and Striking Tools
Our range of Dekton Tools now includes more hand tools and striking tools than ever! Our latest product includes brand new extra long flat & pozi screwdrivers, hammers, mallets and tape measures.