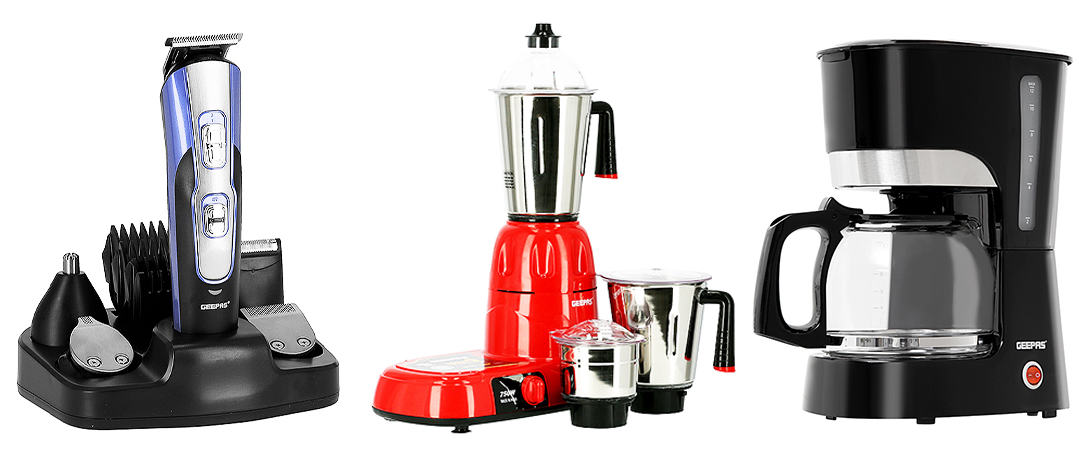 GEEPAS are one of the world's best suppliers of kitchen appliances and electricals, with an enormous selection of household products available for competitive prices. Combining technology and innovation with affordability and reliability, GEEPAS are an exciting brand whose products are widely available online or via UK retailers.
With over 1,500 electronic products, Pound Wholesale have leapt at the chance to offer their quality kitchen, home and personal care essentials in wholesale quantities to our customers. GEEPAS product embody fantastic durability and quality, as well as excellent brand identity and style, in-keeping with contemporary trends and décor.
Browse the full GEEPAS range at Pound Wholesale!
Personal Care
GEEPAS provides one of Pound Wholesale best and largest range of beard trimmers and hair clippers, ranging from multi-purpose sets to stubble trimmers. Providing robust strength and durability, GEEPAS beard trimmers and hair clippers can be used for intricate cuts, shaved or stubbly cuts.
Their range includes 11-in-1 and 7-in-1 designs, great for cutting hair, beards, nostril hair and more. All GEEPAS beard trimmers and hair cutters are rechargeable, with long-lasting batteries for long cutting time. Each set also includes accessories, such as guards, combs, brushes and oil, for maintaining precision blades and achieving different looks.
Kitchen
Our selection of GEEPAS kitchen appliances and electricals includes a spectacular range of innovative and powerful designs to make cooking and food prep easy.
GEEPAS' selection of blenders includes a wonderful mix of food processors, jug and countertop blenders, mixer grinders, high-speed function blenders, multi-function vegetable choppers and more. Great for smoothies, sauces, purees and mixing up ingredients, these durable, powerful designs with friendly interfaces help to speed up cooking tasks, making light work of vegetables, fruits and foods and spices.
Their handheld designs provide the robust mixing power bakers crave! With blenders and mixers, the GEEPAS hand-held products are great sauces, baking mixes and egg whites.
For coffee connoisseurs, GEEPAS range includes coffee machines and coffee grinders. Making light work of fresh coffee beans, the GEEPAS coffee appliances are for the purists. From coffee and espresso to latte or mocha, the GEEPAS coffee makers and grinders allow users to get creative with their coffee. With stainless steel blades and jars, the uniquely functional coffee grinders can be used to achieve the desired coarseness of coffee beans.
For cooking, GEEPAS' innovative designs help simplify kitchen tasks. With an omelette maker, egg boiler cooker and sandwich maker, these popular small kitchen appliances are unique additions to the kitchen. Their range also includes a wonderful mix of stylish kettles and hot plates, for a variety of cooking and heating tasks.
Home
GEEPAS' exceptional range also includes various household essentials and appliances. We provide GEEPAS electric bug killers which can be placed around the home to battle against insects and household pests. We also stock a huge mix of GEEPAS household irons, with an assortment of styles and colours available, perfect for ironing laundry and clothing.
Why Choose GEEPAS?
Their mission and philosophy is simple; use technology and innovation to create cutting-edge household and kitchenware electricals!
GEEPAS is a reliable and trusted brand. Available in over 85 countries around the world, the pedigree of their products is not in question, delivering world class appliances with cater for the requirements of the household. With such quality and great prices, businesses of all types can thrive by investing in GEEPAS stock, either for resale or use in kitchen or catering environments.