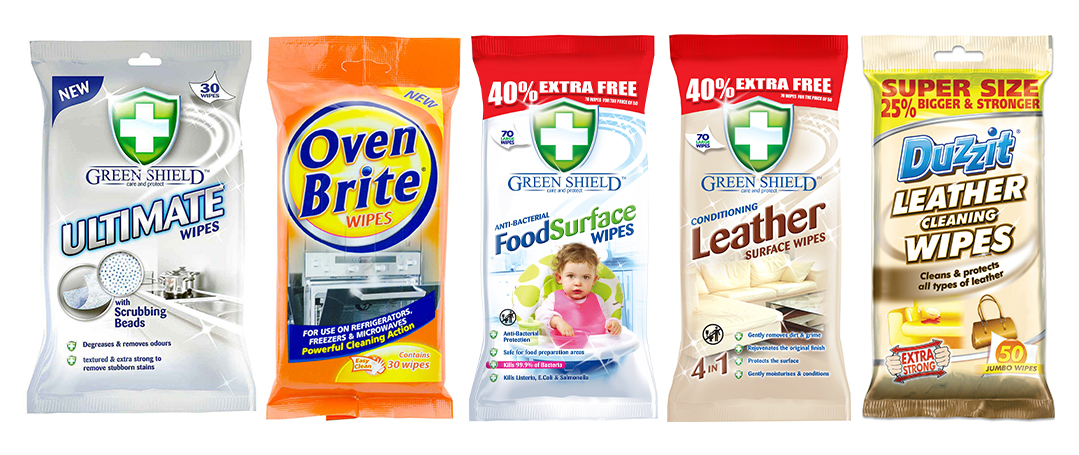 Pound Wholesale stock an exhaustive selection of cleaning wipes that are used for domestic and professional cleaning purposes. Great for cleaning surfaces and various objects around the home, cleaning wipes make household tasks easy and fast, and our extensive selection from leading brands includes a pack for virtually every type of material!
Whether you're cleaning a family home, a hectic workplace or busy kitchen worktop, a good pack of cleaning wipes can go a long way! Our extensive selection of wipes includes anti-bacterial, food surface, kitchen appliances, floor, multi-surface, bathroom & leather solutions.
The number of sheets per pack differs, but you can be sure you're getting fantastic value for money at Pound Wholesale! Many of our wholesale cleaning wipes are scented and leave a refreshing finish when removing dirt and filth from the home.
Sold in large quantities, our selection of wholesale cleaning wipes is suitable for convenience shops and various businesses that provide cleaning services. Our exceptionally low bulk prices on products widely available from UK supermarkets and retailers offers exceptional value for your business and its customers.
Discover more about our diverse mix of cleaning wipes at Pound Wholesale!
Duzzit
Pound Wholesale provide a Duzzit wipe for every area of the home! With antibacterial and disinfectant wipes, homeowners can have confidence that bacteria and dirt is under control when using Duzzit products.
For the kitchen, Duzzit's range includes a brilliant mix of antibacterial wipes for the sink and surfaces, stainless steel wipes for ovens and kitchen appliances and fridge & microwave wipes to keep things clean when you're preparing food.
We also provide Duzzit cleaning wipes for wooden and laminate flooring, toilets and bathrooms, furniture, glass and more!
Green Shield
Green Shield are the kings of cleaning wipes! Pound Wholesale are proud suppliers of their stunning range, offering unbeatable prices on various best-sellers and daily essentials among homeowners.
Made with high quality technology and advanced formulas, Green Shield's most popular wipes available at Pound Wholesale include their household wipes, food surface wipes and ultimate wipes! All equally effective, these wipes are fantastic for kitchen surfaces, making light work of grease and grime.
For more specialist applications, our range of Green Shield wipes include leather, glass & window, bathroom, stainless steel, microwave, floor and wood & laminate packs for keeping every inch of the home sparkling clean and free of dirt!
Oven Brite
Pound Wholesale are the UK's first choice for Oven Brite products, and that includes their famous oven cleaning wipes! Perfect for dirty, grimy ovens and grills, the Oven Brite cleaning wipes make cleaning your oven and kitchen appliances easy. With a powerful cleaning action, the Oven Brite Wipes are also ideal for removing burned food and stains from hobs.
To bulk buy cleaning wipes from our robust selection, register for a trade account with Pound Wholesale today!