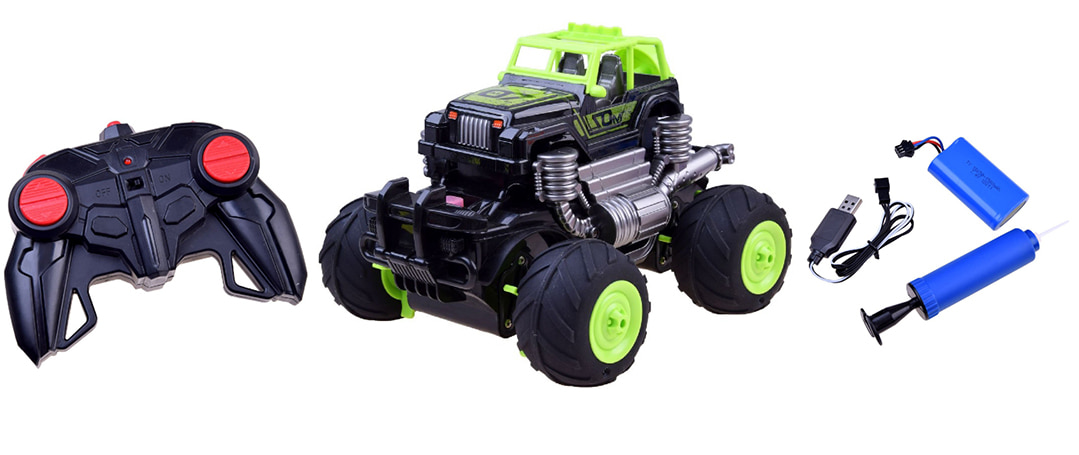 Introducing the brand new Forza Amphibious 4X4 Off-Road RC Monster Truck!
For kids that want their RC toys to go further, there's no better toy than the swashbuckling Forza Amphibious. This highly functional, advanced and fearless design is equipped for the road, bumpy off-road conditions and, yes, even water! With inflatable tyres, the Forza Amphibious can drive upright or upside down over water!
Pound Wholesale has sought out a range of RC toys that offers immaculate control, unique functionality and an incredible remote control experience for kids and young children. Although our range of RC toys is comprehensively impressive and exciting, they don't come any bigger, badder or meaner than the Forza Amphibious!
With 360 degree spins, drift rotation and incredible 4x4 power, feel free to take on some dangerous turns and attempt off-road drifts.
An Off-Road Dream!
The relentless Forza Amphibious is equipped with quality suspension, huge robust rubber tyres and four wheel drive to make light work of bumps, hills and stony ground surfaces. This durable and powerful machine is perfect for driving outdoors on mountains, hills or in the woods, offering an unbeatable off-road experience.
If outdoors is your thing, then the Forza Amphibious is for you! This waterproof design has no problem driving over mud, dirt or puddles to give you the complete off-road experience. The Forza Amphibious is just as effective on the road, but why place limits on such as awesome monster truck?!
Driving On Water
This waterproof design can be driven on water, either in upright or inverted positions. Before use, ensure you've inflated the tyres and the Forza Amphibious scrambles through streams, rivers and water to reach the other side!
Don't be shy, the Forza Amphibious is ready! Feel free to make a splash by flying into water at top speed and watch the monster truck power through. With a whopping 2.4GHz radio control, the Forza Amphibious can be controlled from a considerable range so you can stay dry on land.
Technical Information & Specification
The Forza Amphibious is fitted with a huge 7.4V rechargeable battery with a USB charger to offer lasting power when you're on an enduring outdoor adventure. With 2.4GHz control, the Forza Amphibious can be operated from considerable distances so you can get out of the way!
With durable rubber tyres and a lightweight pump included, the Forza Amphibious' tyres are very easy to inflate depending on whether you're driving on land or on water.
You can find out more information and view the price of the Forza Amphibious here!