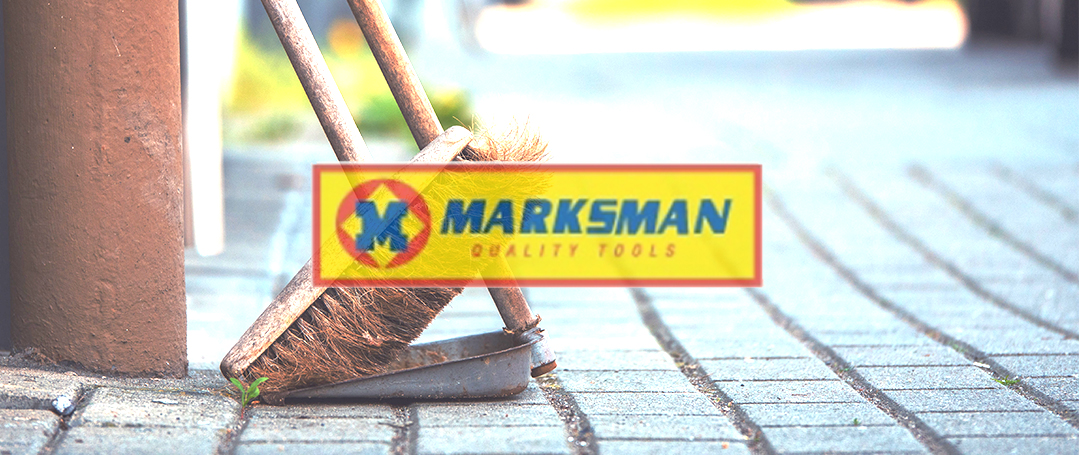 Pound Wholesale are the UK's number one wholesale supplier of Marksman Tools, a brand synonymous with fantastic DIY and gardening tools and supplies. We've expanded our selection of Marksman further by sourcing a brand-new range of broom heads, which has every bristle you need for keeping the home, garden and outdoor areas of your household clean!
Our brand-new selection of Marksman Broom Heads includes stiff and soft options for the home. Whether you're sweeping up in the kitchen, conservatory or outdoor areas, this exciting range has every type of brush you'll need to remove dirt and debris.
The Marksman brushes include bassine, coco, PVC & synthetic bristles, with head lengths ranging from 8.5 inches to 12 inches. Here is our comprehensive guide to brushing your home with our range of Marksman Broom Heads!
Patios, Decking & Gardens
Patios, decking and gardens are the pride and joy of many homeowners, and when you've invested time and resources into creating a garden that you're proud of, it's a necessity to keep household outdoor areas looking good.
For removing leaves, dirt and debris from patios, decking and garden pathways, a reliable brush is something every gardener needs, especially during Spring and Summer months. Bassine bristles, which are a coarse leaf fibre, provide excellent rigidity and durability, reaching far into cracks and grooves to offer a brilliant sweeping performance.
If you require something a little less tough, such as for removing dust or leaves from the shed floor or more delicate surfaces and gardens, our selection of coco brushes is ideal. Soft enough to cause minimal-to-no damage, yet robust enough to sweep away debris, the Marksman Coco Broom Heads are thick with bristles to provide excellent coverage. Coco brush bristles are crafted from the husks of coconuts.
For work in the driveway or large patio areas, we stock a wide range of PVC Broom Heads by Marksman in an array of colour. These uncompromising designs have a tendency to 'flick' rubbish and debris around, making light work of sweeping tasks and getting jobs done in minutes. Ideal for sweeping up rubble or yard trimmings, the PVC bristles are tough, hard-wearing and long-lasting.
Indoors
Although Marksman's range of broom heads available at Pound Wholesale are primarily aimed at gardening tasks, that doesn't mean they can't be used to sweep up indoor areas. Great for the conservatory, garage or heavy-duty sweeping tasks in the kitchen, our selection of Coco Broom Heads are best used in dry conditions, reaching far into tight spots to remove dust and debris.
You may also consider a brush with synthetic bristles for tiled flooring or concrete floors, which are made with crimped bristles that are durable and hardwearing. Soft brushes are normally best suited to indoors as stiff brushes can damage tiles or delicate surfaces.
Specifications & Technical Info
All of Marksman's new broom heads are wooden-backed, durable, hardwearing designs. With PVC brackets for attaching handles, these heads are suitable for use with most broom handles.
Our selection ranges from 8.5" to 12" in length, depending on your requirements.
All of our Marksman Broom Heads include the broom head only. You can purchase these wooden broom handles separately.