Spring is now in full swing and as Summer approaches, there isn't a better time to start filling out your gardening and DIY departments. This year, Pound Wholesale are delighted to announce that we have vastly expanded our range by sourcing an array of new products for gardening.
Sourced from leading providers and manufacturers, Pound Wholesale has fully stocked in high quality lines by industry leaders Marksman.
From shears, pruning and trimming tools to hose fittings, adapters and pressure sprays, Pound Wholesale has reimagined its range of gardening accessories to offer better products than ever before for our customers.
With fresh products and unbeatable prices, gardening stores, services and suppliers can diversify their range with our exciting new selection of products.
Cutting Tools
Our new collection of gardening products includes an amazing selection of cutting, trimming and pruning tools. From shears and bypass loppers to pruning sets, Pound Wholesale's comprehensive range includes everything needed for trimming plants and cutting branches.
Top Picks
Marksman Hedge Shears: Effortlessly trim garden hedges and keep the garden tidy. Made with high quality stainless steel blades, the Marksman Hedge Shears are easy to grip and manoeuvre, and can be used for edging lawns, flower beds and much more.
Marksman Pruning Set 3 Piece: This three-piece set includes an anvil lopper, hedge shear and pruner for various garden trimming tasks. Ideal for hedges, bushes and edging, this high-quality set has everything needed to maintain the garden through summer.
Marksman Long-Handled Border Shears: These flat shears are perfect for angled cutting of lawns and flower beds, keeping the garden tidy and defined. With stainless steel blades and soft feel grips, the Long-Handled Border Shears are made with tubular handles for maximised strength.
Hoses, Sprinklers, Sprayers and Accessories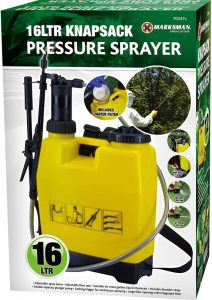 When it comes to watering plants, flower beds and grass, we've gone above and beyond to source all the products landscaper needs. From hoses and sprayers to fittings and adapters, we stock all the essential garden products for connecting taps to water-spraying devices. Moreover, we've added sprinklers and pressure sprayer devices that allow greater coverage in the garden.
Top Picks
Marksman Pressure Sprayer: This 16L design has everything needed to provide amazing coverage in the garden. Ideal for water, weedkiller, chemicals or other gardening products, this robust design is easy to fill and use and has a locking trigger for continuous output.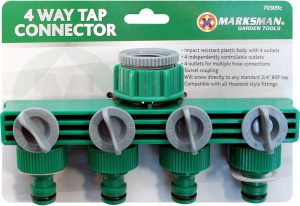 Marksman 4 Way Tap Connector: This 4 Way Tap Connector has four independently controllable outlets for multiple hose connections, allowing gardeners to connect up to four hoses simultaneously.
Gardening Tools
We now provide a better range of gardening tools than before thanks to our latest Marksman additions. With spades, digging forks, rakes, hand forks and cultivators for fantastic prices, garden-oriented businesses can add tremendous quality and value to their range for the right price.
Top Picks
Marksman Digging Spade: The quintessential tool for shovelling and digging tasks. Great for soil or snow, this rust-resistant design is equipped with a PVC handle and a strong pressed steel head for durability.



Marksman Fork and Hoe Tool: This combination tool is ideal for cultivating, blending and smoothing soils with fork and hoe blades.
General Accessories
To complete your range, we stock a brilliant range of gardening accessories,  including washing line, trimmer line and garden wire, hose accessories and adapters, kneeling pads and much, much more.
Visit all of our wholesale garden tools & accessories today to make great savings.