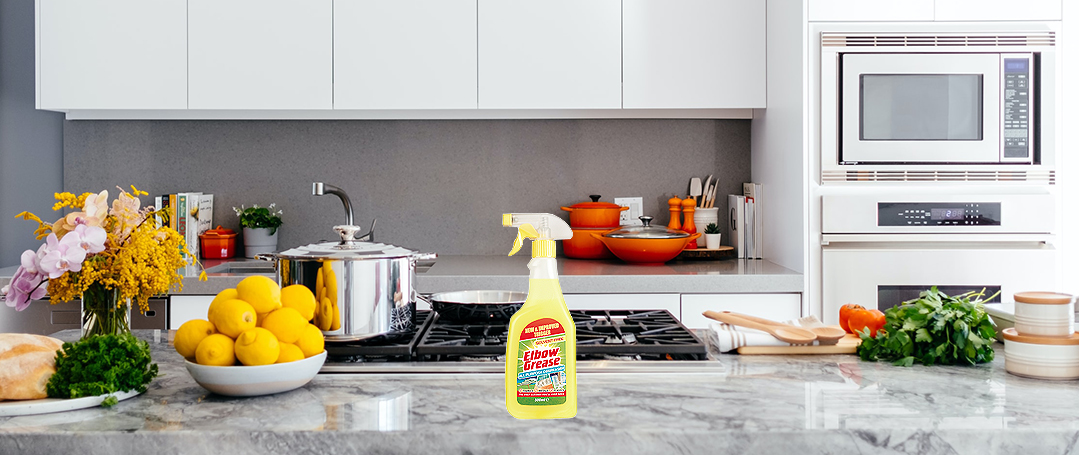 Elbow Grease is one of the most popular degreasers and cleaners in the UK, making light work of dirt, grease and grime. Specially formulated with deep cleaning action, Elbow Grease has gained a cult following among cleaning hobbyists and has been described as 'the only cleaner you'll ever need'.
However, it's often understated how effective and versatile Elbow Grease can be around the household. From the kitchen, worktops and kitchens to carpets, fabrics and outdoor, cleaning enthusiasts can use Elbow Grease to lift tough and stubborn stains from various surfaces and materials to leave a sparkling finish.
Here is a comprehensive list of areas and rooms around the home where Elbow Grease can be highly effective during household cleaning tasks.
Kitchens
Elbow Grease brings a bustling and energetic cleaning force to the kitchen, cleaning kitchen appliances and cupboards. Tackling fine mists of grease and residue build-up, Elbow Grease leaves appliances and kitchen cabinets looking like new. Ideal for grimy pans or kitchen cutlery and utensils, Elbow Grease powers through old stains and burns, and can be used to soak kitchenware items to help cleanse stains easily. After washing up, Elbow Grease can be used with a soft microfibre cloth to thoroughly cleanse food waste and grime from kitchen sinks.
For pots and pans, Elbow Grease helps homeowners save scrubbing time with its powerful cleaning action. After 15 minutes' worth of application, Elbow Grease leaves a sparkling finish, even on the bottom of pans and casserole dishes with tough burns and thick grime.
In busy kitchens which are used daily to prepare food and meals, cooker hoods and filters are often neglected, despite harbouring lots of grease and grime. Elbow Grease can be used for cleaning stainless steel hoods and washable mesh filters to restore appearance. Removable mesh filters can be completely immersed in basins or buckets with Elbow Grease, before rinsing and leaving to dry.
Worktops
If you're cooking, baking or working on kitchen worktops or surfaces around the home, Elbow Grease can be used to restore clean finishes to get you ready for the next job. Simply apply to worktops, leave a few minutes, wipe and rinse.
Tiles
To keep kitchen tiles in sparkling condition, Elbow Grease is a simple and affordable solution for cleaning enthusiasts. Kitchen tiles often bear the brunt of splashes of cooking oils and food debris, which can build-up hefty deposits of grease and grime over time. Elbow Grease helps to revive kitchen tiles, helping to revitalise colour and texture to improve home décor.
Ovens
Elbow Grease is perfect for a total oven clean. From hobs and grill racks to the over door and walls, ovens amass frightening levels of gunk, dirt, grease and grime, and often need a thorough clean. Cleaning enthusiasts can spray Elbow Grease around the oven and leave for 30 minutes, which should be sufficient for greasy and grimy racks and trays, depending on the extent required!
To soak trays and racks, cleaning enthusiasts can even use a bath to properly spray all of the oven parts and allow excess cleaner to drain. Once all has percolated, use a scraper or scourer to remove dirt and use a wet cloth to clean any residue.
Toilets & Bathroom
Elbow Grease is highly effective cleaning limescales and grime from toilets, even below waterline. With just a few sprays, Elbow Grease can be used with a scrubbing brush to remove limescale from toilet bowels for a clean and hygienic finish.
For the bath, Elbow Grease is equally effective, removing any unsightly watermarks on the bowl, from around the perimeter to the plug holes and taps.
Elbow Grease can also be used for cleaning showers and shower screens. Shower screens often accumulate limescale and drip marks, and with a spray of Elbow Grease and am hours wait should make stains easy to clean with a scrubbing pad or sponge scourer.
Patios & Garden
When left either outdoors or in the shed through the winter, plastic and rattan garden furniture is likely to accumulate mildew or mould marks. With a spritz of Elbow Grease and a hose pipe, plastic garden furniture will have a refreshed appearance in time for the Summer!
If there isn't a steam cleaner on hand, some Elbow Grease and a stiff broom is an adequate substitute. Once weeding is completed, spray the patio and leave for around an hour. With a stuff brush and water, simply ring and scrub any oil or paint stains to leave a clear finish.
Clothes & Fabrics
Perhaps surprisingly, Elbow Grease is noted for its ability to remove stains from clothing and fabric. For grubby collars or cuffs, stained white shirts or deodorant marks, simply spray on some All Purpose Degreaser and throw into the washing machine! Stains like turmeric, sauces or mustard on clothing can be a challenge, but are likely to meet their demise with Elbow Grease!
Carpets
Any spill or stain on the carpet is distressing, especially given how much household fork out for carpets! Red wine, coffee, tea and nail polishes are a menace to impeccable carpets, but if you're dealing with a spill, simply remove any excess liquid possible and apply Elbow Grease. After leaving for a few minutes, scrub robustly to lift stains.
Cars & Machinery
From wheel trims to engine parts, Elbow Grease's cleaning power can be effective in removing dirt, excess oil and grime to restore appearance. With a spray of Elbow Grease and car cleaning tool, cleaning enthusiasts are likely to achieve excellent results. Elbow Grease is also effective for bike chains and machinery, with a post lubricating oil after cleaning.
Irons
Irons are often discarded after a burn, which leaves an unsightly black stain and risks ruining your clothing and laundry. However, a small spritz of Elbow Grease can revive irons. Ideal for application whilst irons are completely switched off and cold, Elbow Grease can remove tough residue after a few minutes' application and a damp cloth.
Chewing Gum & Stickers
For pesky chewing gum and stickers, Elbow Grease is a fast, effective solution for a clean, tidy finish. Suitable for use all types of surfaces and materials, the powerful cleaning action of Elbow Grease effectively lifts gum or sticker residue with a scrubbing pad or sponge scourer.
Why buy Elbow Grease at Pound Wholesale?
Elbow Grease is one of the UK's best-selling and most popular cleaners, that has such a vast array of uses in domestic and commercial cleaning. Helping consumers to save cash on cleaning products, Elbow Grease is renowned for its immense cleaning power, and has received validation from a famous social media influencer!
Pound Wholesale stock Elbow Grease's famous multipurpose degreaser in two sizes, and even provide a pallet deal to offer extra savings on vast quantities of Elbow Grease.